Microgaming New Games - December
Well known casino software provider Microgaming keeps up with latest trends all the time. Did you tried Big 5 slots or Grand 7's ? Your should. This is the way to understand where today's entertainment technology goes.
In their typically efficient way Microgaming has launched 4 great new games for December which cover every aspect of gaming. There are 3 new slots games and one exciting new card game which provides a break from the slots for anyone who is interested. Play all new games at Microgaming casinos .
Scrooge Video Slots
Scrooge Video slot is a very topical 5 reel slots game for this time of year. Many think of Scrooge as the miserly character from the Dickens novel but as you start to play this 50 line generous slots game, you will see that Scrooge is not a miser at all. In this 50 line slots game there are many symbols and characters that remind you of the famous novel, from Tiny Tim to Jacob Marley, Christmas wreaths and even the ghosts of Christmas past present and future. You can't help but be drawn in to the story and excitement of Christmas as you play this great slots game.
Generous Scrooge Bonus Game
Scrooge acts as the wild symbol and can replace any of the other symbols apart from the scatter to make up a winning line. The scatter symbol is the brass knocker of Scrooges door and when 3, 4 or 5 of these appear on your screen you are taken to the bonus game. The bonus game is a pick and match game where you have to match the Christmas dinner to its plate and diner. There are 5 different empty plates that you need to match up. Once you have matched all of the plates to their meals and diners, your prize is revealed. You can win from 6x up to 20x the bet you have placed with the bonus spin. But that is no the only bonus when playing Scrooge Video slot, there is also the chance to win free spins from the accumulating free spins bonus.
It All Leads to 25th December
Every time that you win you are given the chance to click on a symbol after the spin. The symbol that you click on will reveal either a number or a date; the number is the number of free spins that you are awarded and the date is of course the dates leading to Christmas. Your wins are accumulated and when you reach 25th December you are awarded the free spins with a 2x multiplier Scrooge is not just a video slots game for Christmas but playing it during the Christmas season does of course have an added attraction.
Tribal Treasure Slots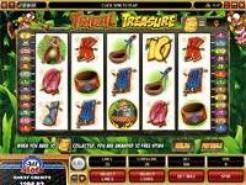 Tribal Treasure is definitely an all year round slots game but again when it is cold and chilly outside, it is a perfect slots game to log on to and feel the warmth. You can even see the fires spark especially under the pot where the intrepid explorer is being boiled! Tribal Treasures has 5 reels and 25 paylines. Each and every symbol has the associated jungle theme and even the letters and numbers of the high cards are decorated in jungle colors with draping plants and flowers over them. The native is to eh wild symbol in this game and he can substitute for any of the other symbols to make up winning lines. On his own the native is also a big winner, 5 natives along a payline will give you an incredible 10000 coins.
Free Spins From the Golden Idol
Naturally as with all good slots games, there is also a scatter symbol with a bonus feature. The golden idol of the natives acts as the scatter symbol; when playing Tribal Treasures and apart from paying out multiples when it appears on your screen, three or more will take you to the free spins. With three or more scatter symbols on your screen, you are awarded 10 free spins with a 5x multiplier. During the free spins you can win more free spins. With any win that you gain when playing Tribal Treasures, you are also given the chance to gamble it and try and double or quadruple the win. This is a well known and exciting additional feature of many Microgaming slots games which allows you the chance to choose between red and black cards or a suit to try and improve your winnings.
Buffet Bonanza Slots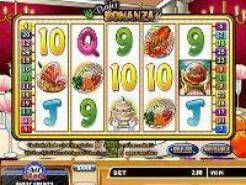 Buffet Bonanza, the last new slots game from Microgaming for December also has the gamble feature where you can double or quadruple your winnings. This mouth watering 5 reel 25 payline slots game also has bonus free spins and an expanding wild symbol. The hearty diner is the wild symbol in this game where you can see fantastic feasts before your eyes. There are steaming roasts, crab pots, delicious cakes and many more appetizing meals to tempt your palate.
Hungry Diners Add Bonuses
The hearty diner only appears on reel 3 as the wild symbol and can be used to make up winning lines. But, when he does appear on reel 3 he expands to cover the whole reel and give more chances to win in addition to throwing pies at other symbols to try and turn them into diners also. The more diners the better as they help to make up the winning lines. The Buffet Bonanza symbol is the scatter and three or more of these on your screen will award you 10 free spins. During the free spins not only are all your winnings doubled but the diner also appears on reels 2 and 4 giving you more chances to win more money. And don't forget that after every win you have the chance to gamble that win and try to double or quadruple your winnings.
Vegas Three Card Rummy Gold
Vegas Three Card Rummy Gold is the only new card game that has been launched by Microgaming this month and it is a great game to be launched. If you are familiar with any of the Gold Series of Microgaming, you will know that they are all card games with an extra bonus. In this case you get to play 3 Card Rummy Gold in addition to placing an extra or Ante bet as some would like to call it which is placed on the configuration of your cards and not just the outcome. In other words if you place an Ante bet and you land an Ace, 2 and 3 in the correct order you can be awarded odds of 100:1 on the bet you placed. Including the Ante bet, Vegas 3 Card Rummy gives you the chance to win up to $6000 when you bet between $1 to $200 on each hand.
Help Your Luck Along
Vegas 3 Card Rummy Gold is a game played between the dealer and the player, there are no other players in the game i.e. it is a 2 man game. The aim of the game is to score as low as possible with the three cards you are dealt. It is a game of luck but you can also change your luck by choosing correctly if you decide to exchange cards or keep your cards. When playing Vegas 3 Card Rummy Gold, the Ace is considered a value of 1 and the face cards are 10. All other cards are taken at their value. The best score you can achieve and win with is zero. Zero is given when you have a pairs or a run of cards i.e. 4, 5, 6. This pays out 4:1. If you score between 1-5, then you are awarded 2:1 and if you land 6-19 then you are awarded even money. Vegas 3 Card Rummy Gold is played with one deck of cards and is a simple and quick game to play that gives you great chances with very little input. It is a great addition to the Microgaming vast array of games and one that will remain popular.