Christmas Slots and Bonuses 2023
Department stores all over America are decorating their windows for the holiday shoppers out to find the perfect gift for everyone on their Christmas list. At the same time, online casinos are also preparing for the holiday season by promoting their Christmas-themed slots. These winter-themed slots are loads of fun and will definitely bring you more holiday cheer!
Enjoy Beautiful Winter-Themed Games
The question "How many days until Christmas" will be asked with twice the emotion by online players because they are well aware of the kinds of opportunities that will be presented to them. There are more games than one can count, which are affiliated with a Christmas or a winter theme. Most of those are 5-reel slots with profitable gameplays, involving wilds, scatters, bonus symbols, big paytables and rewarding bonus features. Usually competitions and bonus offers are affiliated with recently released games and every year new titles with typical Christmas symbols on the reels and snowbound imagery appear.
Winter Wonderland Slots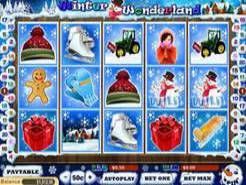 This exciting 5-reel, 20 payline Winter-themed slot will have you singing along to the classic holiday song "Winter Wonderland" within the first few moments of play. Beautifully designed with top notch graphics, the symbols (Skier, Snowflake, Snowman, Sledge, Skating Boots, Tractor, Gift and Girl) will make you want to run outside and have a snow ball fight with your neighbors in old-fashioned holiday style. As a bonus slot, Winter Wonderland Slots offers 40 winning combos and a jackpot of 4,000 coins. Coin sizes range from $0.01 to $10, which makes this slot choice affordable for all players. Bonus features include fun bonus rounds when a player gets three Skier symbols on reels 1, 3 and 5 and 15 free spins for those who are lucky enough to get three Snowflakes (the scatter). Those who'd love to take a walk in a Winter Wonderland can find this Christmas slot at Liberty Slots Casino.
Rudolph's Revenge Slots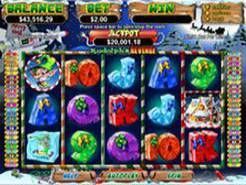 If you're familiar with the classic holiday song "Rudolph the Red Nosed Reindeer" you may think this funny holiday character is too sweet to seek revenge on anyone. Apparently when no one was looking, Santa did something to make him angry and this 5-reel, 50 payline slot has a hilarious storyline to prove it. With 21 winning combos and a coin size of $0.04 (max bet of 50 coins or $2), this game is one of the most popular during the holiday season. Symbols like Rudolph, Bomb, Bound Santa Claus, Frozen Gnome, Bound Gnome, Snow House and Gifts add to the delightful theme in a mysterious way, leaving players curious to know how Santa wronged Rudolph. With thrilling bonus rounds and free spins, Rudolph's Revenge Slots promises big winnings to those who play. Play Rudolph's Revenge now at Bovada Casino, Manhattan Slots Casino and Club USA Casino !
Winter Wonders Slots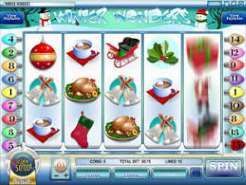 If you love your slots to give you great winning opportunity and be beautifully designed at the same time, this 5-reel, 15 payline bonus slot is for you! Winter Wonders has some of the most majestic graphics seen in today's slot industry, offering symbols of the holiday spirit including: Sleigh, Santa, Christmas Bells, Candles, Christmas Stockings, Candy Canes, Christmas Tree, Christmas Bauble, Hot Chocolate, Turkey Dinner, Christmas Holly and a Christmas Present. Coin sizes for this jolly game range from $0.01 to $0.50. Its amazing jackpot of 5,000 coins, fun bonus rounds, free spins and a possibility of 38 winning combos is a great reason to take some time to relax this holiday season to play Winter Wonders! Read Winter Wonders Slots review. Play Winter Wonders Slots now at Golden Cherry Casino!
Christmas Bonuses
Christmas is the time when everyone comes together, resting inside their warm cozy homes surrounded by their close ones. It is one of the most romantic periods of the year for many people but for online players it is also something very special for entirely different reasons, which have nothing to do with Christmas music playing on the TV and Christmas vacations. It is also an opportunity to enjoy old and new outstanding winter-themed and snow-decorated games and new promotions created specifically for the 12 days of Christmas.
Christmas Surprises by the Best Online Casinos
Many of the most popular casinos prepare special offers for every holiday season and the winter celebrations are not an exception. Tournaments, promotions such as match bonuses, free spin packages and many others become available to every member out there who manages to spare some time for gambling thrills throughout the Christmas holidays. And as they are feasting on their favorite Christmas cookies, they can enjoy countless games from the best providers in the world, which in one way or another encapsulate the spirit of winter and Christmas.
Bonus Features with a Christmas Spirit
There are many games with themes connected to Santa Claus, Norse mythology, Christmas celebrations, slots with astounding wintery landscapes and many others. To online gamblers, titles like these, especially new ones are as sweet as Christmas cookies. Even more delicious are the bonus offers, which are often connected to those games. New featured games are usually accompanied by special promotions, which award prizes to both veteran and newcomer players. And as fans of Christmas are setting up their laser Christmas lights, they can remain assured that the numbers in their account balances are rising through permanently paying promotions like VIP rewards programs, deposit offers, referral programs and Comp Point features.
Winter is Even More Beautiful When Decorated with Big Prizes
So, make sure to pay special attention to your favorite online gambling sites, their game galleries and especially their promotions tab in order to receive spectacular Christmas Gifts in the form of big earnings and turn the wealth wishes, scribbled on your Christmas Cards into reality. Observing the shiny, dreamy Christmas decorations, while listening to Bing Crosby's White Christmas will surely put one in the mood for the most treasured holiday of them all but players can create even better Merry Christmas images in their head by taking full advantage of the winter offers of their casinos and experiencing profitable surprises both under the Christmas Tree and on the computer. Online casino players have one more big reason to enjoy annual holidays and that is the collection of numerous bonus offers and the participation in events that are being organized by the majority of online gambling sites. Winter is definitely a season that leaves its mark on the online gambling world and if they are signed up on the right websites, players will be experiencing Christmas music and their Christmas vacation with the knowledge that that they are receiving terrific prizes online at the same time. Their 12 days of Christmas will be filled with excellent winter-themed games, exciting, profitable tournaments and a variety of promotions.
Profit from Many Different Winter Promotions
The Christmas bonus offers can be special promotions, which increase the size of the prizes that are received by new winter-connected games, match bonus offers for newcomers that award prizes on the moment of signing up or on a weekly basis, free spin packages on certain game types or individual titles, reload and cashback offers, rewards and referral programs and many others. As online gamblers are tasting their freshly baked Christmas cookies and are hanging up the laser Christmas lights decoration all over their room, they will be thinking about the solid rewards, which are coming their way through one promotion or another.
Online Casinos Can Give Christmas Presents on a Regular Basis
So, if you are a fan of online gambling and your Christmas Cards keep wishing you anything but wealth, don't panic – the online casinos and their sure to come bonus offers have your back. The prizes a successful player can acquire over Christmas can not only additionally lift his or her spirits over the holidays but also provide the means for the purchasing of some wonderful presents, Christmas decorations and most importantly – the creation of some unforgettable Merry Christmas images with friends and family.
3 Reasons You'll Always See New Christmas Slot Releases Each Year
Doesn't Christmas come around quickly each year? It's amazing quite how fast it arrives. Even more impressive is the number of new festive slots that are released each year. We can imagine the developers start working on these in January, ready for the next season. That led us to think about why we will always see new Christmas games to play. How many reasons can you think of?
They are popular
Doesn't everyone love a good festive slot game to play? You probably have a few favorites already. We certainly do, and they do not all come from the same provider either. Some games are festive versions of existing slots, such as Flowers Christmas Edition and Foxin' Wins: A Very Foxin' Christmas. But you will also find lots of individual games released for this time of year. Look out for Advent Wins, Ghosts of Christmas, Jingle Jingle, and Return of the Rudolph among others. These all cater to different audiences and preferences too.
They can take on many forms
Remember Misfit Toyland from Rival Gaming? That was a great example of how unusual festive slots can be. It followed the story of old and abandoned toys, discarded after the big day. There are lots of slots based on Santa himself, while Santa Paws takes on an animal theme. The Nice List is another popular title, while The Elf Wars focuses on the elves that help Father Christmas each year. You never know what to expect in these games, even when they deal with such familiar elements. That is part of the charm, and one of the reasons why we continue to play them as well. We wonder which new games will appear this year?
You can expect gifts, free spins, and bonuses too
You never quite know how generous Father Christmas can be when he appears in these slot games. With lots of opportunities to bring you some gifts, he often appears as a wild, scatter, or bonus symbol. While some games offer free spins, others let you unlock bonus features. One game even took us on a journey across a map, following Santa and trying to amass prizes as we went. This slot is called Santa's Village – give it a try. This proves you can never tell what you will get at Christmas – not in the world of slot games, anyway!