Fruitastic Slots
Fruitastic Slots can't be accessed by new players. But online casino gamers who are seeking a gorgeous, entertaining slot machine game are going to be thrilled with other fruit-themed slots. Head to your favorite online casino today for your chance to wager, spin, and win with the following games; you don't want to miss them!
Best Fruit Slots
Are You Ready for a Fruitastic Gaming Experience?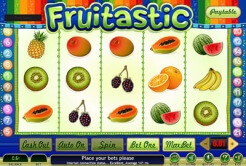 If you're an online casino gamer who loves a fruit theme, then the Fruitastic Slots game is for you! Offering players 5 reels and 21 paylines of gorgeous, fruity symbols, Fruitastic Slots is sure to delight anyone who appreciates a fun slot machine game that is really easy to play. Entertaining music accompanies the spinning of the reels while a voiceover announces wins. Visit your favorite online casino to play Fruitastic Slots today.
Fruitastic Slots is Easy to Play
Anyone can learn to play the Fruitastic Slots game; all you have to do is select a coin size of $0.01, $0.05, $0.10, $0.25, $0.50, or $1.00 and then determine how many of the 21 paylines that you wish to wager on. Experienced slot machine players agree that one of the best ways to maximize your chances of winning is to wager on all available paylines; keep this in mind while selecting the coin size you wish to play in the Fruitastic Slots game.
Vivid Fruitastic Symbols Could Mean Huge Wins!
There are many colorful symbols in the Fruitastic Slots game, including the Orange, Blackberry, Banana Bunches, a Mango, Star Fruit, Watermelon, and several others. Line these fruits up on an activated payline for a normal win.
The scatter symbol is depicted by a delicious looking Fruit Parfait that wiggles when on a win; scatter wins occur when the Fruit Parfait icon appears 2, 3, 4, or 5 times anywhere on the reels.
A Fruit Platter acts as the wild symbol and can help players create winning combinations; 2, 3, 4, or 5 of these on a selected payline will also provide a nice payout. Every gambler will love the animation offered by the wild and scatter symbols in the Fruitastic Slots game.
Why Should I Play Fruitastic Slots?
Although the Fruitastic Slots game doesn't offer players a separate bonus feature like the one in Cool Bananas Slots, it does provide players with free spins with a certain combination on the reels. In order to trigger your free Fruitastic spins, you must have 2, 3, 4, or 5 Fruit Platters on your reels; this will automatically start 5, 10, 15, or 20 free spins, respectively.