Rival Casino Games
While there are many platforms utilized by online casino, none has drawn more attention that Rival casino games. Rival casinos are user-friendly and consist of all the casino games you would expect to find at a top-notch online casino. But, Rival offers something other casinos do not - I-Slots. I-Slots are interactive slot games that engage the player through animated storylines. As you play an I-Slot game, you become acquainted with the characters in the story. The storyline is told at each level of play via video clips. Along with the storyline are additional rewards and exciting new features.
I-Slots are always entertaining and always fun to play. All Casino Slots would like to showcase one I-Slot in each of our four categories to give you a better perspective on why online slot players are being drawn to these Rival casino games like a moth to a flame.
Rival Offers Many Great 5-Reel Slots
Rival's 5-Reel slot collection is made up of the story-driven I-Slots series and numerous other titles that cover a variety of themes - science fiction, adventure, animals, historical, treasure hunting, winter holidays, underwater and plenty of others. The gameplay of those titles features a different number of paylines, many profitable symbols usually including a wild and a scatter and of course - bonus features of every kind imaginable - free spins with multipliers, random wins, super spins and others.
Rival Video Slots: 5 Reel Circus Slots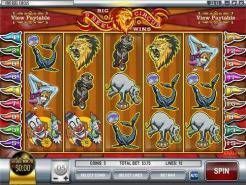 From the ring master to the parade of elephants, from the acrobats to the clowns -everyone loves a circus! Well, you will love this Rival Video Slots casino game, too! Circus Slots is a 5-reel, 15 payline bonus video slot with lions, and tigers, and bear symbols - oh my! With a jackpot of 7500 coins, the maximum bet is 5 coins or $75. The wild symbol is the Tiger, and the scatter symbol is the Big Top Clowns. Get 3 scatter symbols and win 10 free spins, and all winnings are tripled! The animation is realistic and the graphics are quite stunning. Grab a ringside seat and play 5-Reel Circus Slots today!
The Highly Admired I-Slots Collection
The slots collection, which Rival are most popular for is the I-Slots. It is made up of several franchises such as Cosmic Quest and As the Reel Turn as well as a decent number of other individual titles. These are 5-reel slots the gameplay of which is heavily intertwined with a well-developed background story. The storyline of each slot will be expanding as the player is progressing through the gameplay up until the point, the online gambler experiences a small movie or a video game with a plot.
Rival I-Slots: As the Reels Turn - With Friends Like You - Part I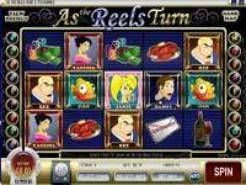 As you are introduced to the characters Chrissy, Tommy W., The Don, and Matt G, and a particularly odd-looking fish called Ivan, you soon realize this is a "soap opera" like no other. Before you even begin to play, you are presented with a synopsis of the storyline in several introductory screens. As The Reels Turn is a 5-reel, 15 payline I-Slot with a jackpot of 1000 coins. Along with the scatter symbol, there are two bonus rounds, one consisting of 10 free spins and the other is a 3-in-2 bonus game called: the Tommy Wong bonus round, the Counterfeit Chips bonus round, and the Advance to Next Scene bonus round. The maximum bet is 5 coins or $75. Instead of the usual paytable, there is a Game Map wherein you can click on a scene to view it again. It also shows you when the unreviewed scenes and the bonus rounds will begin. The sounds and graphics are extraordinary! Play As the Reels Turn today and become involved in the fascinating world of these interesting characters. Remember, Parts II and II are also available.
The 3-Reel Slots of Rival Gaming
Rival's 3-Reel Slots stand out not just with their immersive visual designs but also with their unusually rich gameplay. Most 3-reel slots offer nothing more than a modest paytable and perhaps one special symbols with a single effect. That is not the case with Rival's 3-Reel games. Not only do they adapt various themes although the dominant one is clearly focused on the general slot symbols - cherries, sevens and Bars but they also offer bonus features such as multiplying wilds and free spins.
Rival 3 Reel Slots: Flea Market Slots