Rival Casino Games
While there are many platforms utilized by online casino, none has drawn more attention that Rival casino games. Rival casinos are user-friendly and consist of all the casino games you would expect to find at a top-notch online casino. But, Rival offers something other casinos do not – I-Slots. I-Slots are interactive slot games that engage the player through animated storylines. As you play an I-Slot game, you become acquainted with the characters in the story. The storyline is told at each level of play via video clips. Along with the storyline are additional rewards and exciting new features. I-Slots are always entertaining and always fun to play. All Casino Slots would like to showcase one I-Slot in each of our four categories to give you a better perspective on why online slot players are being drawn to these Rival casino games like a moth to a flame.
Rival Offers Many Great 5-Reel Slots
Rival's 5-Reel slot collection is made up of the story-driven I-Slots series and numerous other titles that cover a variety of themes – science fiction, adventure, animals, historical, treasure hunting, winter holidays, underwater and plenty of others. The gameplay of those titles features a different number of paylines, many profitable symbols usually including a wild and a scatter and of course – bonus features of every kind imaginable – free spins with multipliers, random wins, super spins and others.
Rival Video Slots: 5 Reel Circus Slots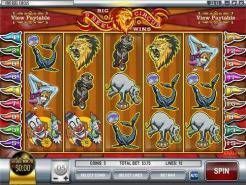 From the ring master to the parade of elephants, from the acrobats to the clowns -everyone loves a circus! Well, you will love this Rival Video Slots casino game, too! Circus Slots is a 5-reel, 15 payline bonus video slot with lions, and tigers, and bear symbols – oh my! With a jackpot of 7500 coins, the maximum bet is 5 coins or $75. The wild symbol is the Tiger, and the scatter symbol is the Big Top Clowns. Get 3 scatter symbols and win 10 free spins, and all winnings are tripled! The animation is realistic and the graphics are quite stunning. Grab a ringside seat and play 5-Reel Circus Slots today!


The Highly Admired I-Slots Collection
The slots collection, which Rival are most popular for is the I-Slots. It is made up of several franchises such as Cosmic Quest and As the Reel Turn as well as a decent number of other individual titles. These are 5-reel slots the gameplay of which is heavily intertwined with a well-developed background story. The storyline of each slot will be expanding as the player is progressing through the gameplay up until the point, the online gambler experiences a small movie or a video game with a plot.

Rival I-Slots: As the Reels Turn - With Friends Like You – Part I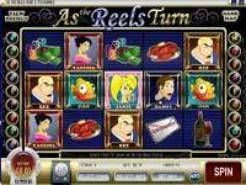 As you are introduced to the characters Chrissy, Tommy W., The Don, and Matt G, and a particularly odd-looking fish called Ivan, you soon realize this is a "soap opera" like no other. Before you even begin to play, you are presented with a synopsis of the storyline in several introductory screens. As The Reels Turn is a 5-reel, 15 payline I-Slot with a jackpot of 1000 coins. Along with the scatter symbol, there are two bonus rounds, one consisting of 10 free spins and the other is a 3-in-2 bonus game called: the Tommy Wong bonus round, the Counterfeit Chips bonus round, and the Advance to Next Scene bonus round. The maximum bet is 5 coins or $75. Instead of the usual paytable, there is a Game Map wherein you can click on a scene to view it again. It also shows you when the unreviewed scenes and the bonus rounds will begin. The sounds and graphics are extraordinary! Play As the Reels Turn today and become involved in the fascinating world of these interesting characters. Remember, Parts II and II are also available.


The 3-Reel Slots of Rival Gaming
Rival's 3-Reel Slots stand out not just with their immersive visual designs but also with their unusually rich gameplay. Most 3-reel slots offer nothing more than a modest paytable and perhaps one special symbols with a single effect. That is not the case with Rival's 3-Reel games. Not only do they adapt various themes although the dominant one is clearly focused on the general slot symbols – cherries, sevens and Bars but they also offer bonus features such as multiplying wilds and free spins.

Rival 3 Reel Slots: Flea Market Slots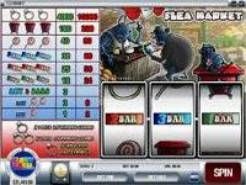 Another classic slot is the Rival 3 Reel Slots called Flea Market. With a jackpot of 10,000 coins and a max bet of 2 coins or $10, you will engage in plenty of haggling playing this slot game. Although there is no bonus game, there is a wild symbol – the Ring. It is also a wild multiplier by 2x, 4x. When it appears once, you will receive 2x your winnings; when it appears twice, it pays 4 times your winnings. With bars, candy pops, and furniture symbols; you will no doubt have a great time playing Flea Market Slots . It's just a fun game to play!


The Rival Slots Connected to a Progressive Jackpot Prize
There are several games created by Rival who are usually attached to progressive jackpot prizes on all the sites, which they end up on. Some of these are recently released and others have been around for quite a long time. These titles are capable of awarding these progressive jackpots in different ways – in some cases the big prize is awarded randomly to players who are currently enjoying one of those games but in others players need to land an extremely rare and difficult to achieve winning combination.

Rival Progressive Slots: Strike Gold Slots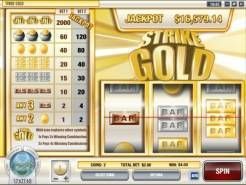 In the Rival Progressive Slots category, we thought we would try Strike Gold Slots . This is a classic 3-reel, 1-payline I-Slot with a wild symbol and a wild multiplier up to 4x. As we are playing, the jackpot is currently over $40,000. The design is flawless, and the paytable is to the left of the reels. The maximum bet is 2 coins or $2, which is perfect for anyone who is new to online slots or who enjoys playing traditional slots. The Strike Gold Logo symbol is wild multiplier, which means that winnings are multiplied by 2x, 4x when Strike Gold Logo wild symbol appears in the winning combination. It is a fun game to play and at $2 a pop, it can reward you handsomely!

Rival Gaming's Newest Slot Releases
Rival released a fair number of games in 2019 – both 5-reel and 3-reel games. The games stand out with immersive background imagery and worlds, full of detail, improved animations, more vivid colors and generous gameplays. The recent Rival slot releases feature gun-slingers, female devils, lush Mexican landscapes and good old-school classic slot symbols. Players can profit not just from plenty of profitable symbols – wilds and scatters included but also from multiplying wilds, free spins, interactive pick a prize-type of bonus rounds and others.
The Best Rival Casinos
Some of the best and most popular Rival-powered online casinos are Ignition, Bovada, Café Casino, Superior Casino and 888 Tiger. These sites can be enjoyed on various platforms – Download, Instant Play and Mobile Play. Their homepages represent a pleasing mix of animation, visual spectacle and useful information. The most popular sites that feature Rival's software also offer the work of another developer. The sites give players the opportunity to use multiple currencies, observe the casinos in different languages, manage their finances via a variety of comfortable payment options like credit cards, e-wallets and cryptocurrencies and benefit from the services of helpful customer support. Members of the best Rival-powered sites can usually enjoy the latest work of the provider as well as many other game types other than slots – video poker, table games, specialty and Live Dealer titles and games awarding progressive jackpots. Additionally, players will get to profit from a huge number of bonuses of every kind imaginable – gigantic welcome offers – match bonuses and free spins alike that can award up to thousands of dollars, free chip prizes, cashback offers and of course – VIP Loyalty programs with multiple levels that provide the most devoted players with additional gifts and prizes. Find all popular Rival Slots at The Leading Rival Casinos :
Become a Part of Exciting and Rewarding Slot Tournaments in Rival Casinos
Some of the Rival-powered sites, which also give their members the chance to enter, enjoy and profit from various tournaments are Slots Million, Drake Online Casino, Vive Mon Casino and Lincoln Casino. Out of these, the most action is available without any doubt at Lincoln. Winners' purses there can reach there as much as 1600 dollars. There are events affiliated with Free Rolls, Slots, Video Poker and Table Games. The maximum entry fee is 5 dollars. Drake Online Casino also offers a fair share of daily, weekly and monthly tournaments. There are about 10 events active simultaneously on the site. The tournaments table is quite comfortable. The biggest event is a monthly competition with a prize pool of 5000 dollars. Drake Online also offers a single daily Freeroll and about 5 other weekly tournaments with the Weekly Slots 2 offering 1500 dollars to the best players.