3 New Slot Games from Microgaming Coming in November!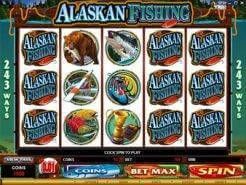 Play Now
On November 5th, slot players will flock to Microgaming casinos to play three fabulous new slot games: Alaskan Fishing Slots; Dance of the Masai Slots; and Kings of Cash Slots. All three slot games have their own unique features, and slot players will be blown away when they play these new games. Alaskan Fishing Slots is a fishing-themed slot game with no paylines! However, players will have 243 different ways to win an astounding 1,215,000 coins! Dance of the Masai Slots is a vivid portrayal of life in the willages of Kenya, displaying the athletic skills of the Masai Warrior Dance. Did you know they can jump straight up to 7 feet or higher? With a jackpot of 50,000 coins, you'll be jumping for joy playing this multi-bonus slot game. Kings of Cash Slots is the most colorful and playful of the three new games. It has a card theme, and the symbols are bold, delightful, and somewhat reminiscent of the animated cartoon "Gulliver's Travels." This game has many surprises, but the one feature players will be wowed by is the 1000x multiplier!
All three games will be available at our recommended Microgaming Casinos:
We urge you to register at any one of our casinos so that you will be ready to play these very unique and very lucrative slot games the moment they are released!