JackpotCity Casino
If you think Las Vegas is the city of jackpots, then head on over to the Jackpotcity online casino and spin up a life changing experience.
You know that feeling when you sit down and play at all those rows of beautiful slots in Vegas, where that giant jackpot overhead could be yours? Well you can get that same Vegas feeling at the Jackpotcity casino and be right at home. Just like a big casino, you can play on over 400 downloadable casino games and 150 no download required games through Microgaming's FlashX Control Player. Looking for more Vegas style casino games? You can also get that Vegas winning feeling playing online Video Poker, Blackjack, Roulette, Baccarat, Craps and other entertaining online casino games. One thing you probably won't get in Vegas is $500 free. At Jackpotcity you will get $200 free on your first deposit, and $300 free on your second deposit. You can't beat that. Jackpotcity is a casino that has everything you want and need, so download your big chance now to win that life-changing Jackpot and have some fun doing it.
Mega Moolah Jackpot slots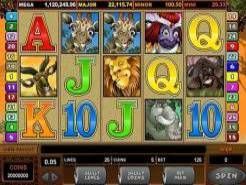 Just like Noah's Ark this animal filled slots machine is a lot of fun to play. You'll think you're on an African jungle safari with so many beautifully illustrated animals like a buffalo, a giraffe, zebra and an elephant. This is a four tier, 5 reel game with 25 paylines and the maximum wager is 125 coins. The Mega Moolah Progressive Slots Machine has made online gaming history once and produced a massive, industry record-breaking jackpot of $5.5 million. Could you imagine winning that?
Treasure Nile Progressive Slots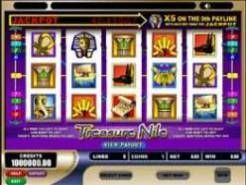 The Pharaohs of ancient Egypt were infamous for amassing huge fortunes of treasures, including statutes with tons of gold and jewels. Treasure Nile takes you away to the world of Pyramids and Sphinxes all meticulously illustrated in this 5 reel, 9 payline progressive slots machine that comes with 35 winning combinations. Give King Tut a run for the money when you play to win the jackpots starting at $40,000 with an average value around $85,000 to $95,000. Play along with all the ancient Egyptian symbols: like the Ankh, a cobra, a pillar, wheat, Anubis, the necklace, a scroll and an Egyptian boat. The time has come for you to go to Egypt and treat yourself like a king, then win the Pharaoh's gold at Treasure Nile Progressive slots.
Tunzamunni Progressive Slots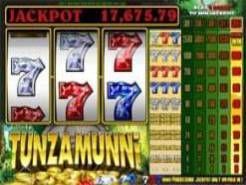 Now it's time to head over to Tunzamunni and prepare for a tropical winning adventure that'll take you deep inside the Tanzanian tropical jungle to find your jackpot. Play to win the big one as this classic 3 reel, one payline is the biggest in Microgaming progressive network. You must bet 5 coins per line to activate the progressive jackpot. Even the sounds on this game make you feel like Tarzan is just a few swings away. Get ready to hit the big one as jackpots start at $10,000. The average hit is $71,037.40 and the highest jackpot that was ever won is $203,656.45. Now there's a great reason to pound your chest like Tarzan when you win that big jackpot.
Go mobile and win big at Jackpotcitycasino…just about anywhere you want to be
Jackpotcity even has casino software for your mobile device so you can play wherever you want. It's really easy to get you started and they'll even give you a 150% bonus on your first deposit. All you need to do is click on the manufacturer handset compatibility page and select your device. Next thing you know, your winning a huge jackpot at the shopping mall or at your local restaurant. It's just like having Vegas in the palm of your hand. Try it now!
Jackpot City Australian Players
Jackpot City Fun Casino gives members of various nationalities, including Australians, the chance to experience a variety of great games on multiple platforms, while supporting them through helpful bonus offers and fully reliable customer service.
Australian Gamblers Will Enjoy Jackpot City's Endless Entertainment
The game gallery of Jackpot City can be enjoyed by Aussies on desktop, smartphones and tablets, including Blackjack, iPad and iPhone. The mobile-friendly games are compatible with all the major operating systems - Android, Apple and Windows. There are 400 titles available on the casino and the number of slot games exceeds 300; many of those are presented in high definition. Some of them are Burning Desire, Thunderstruck, Thunderstruck II, Gold Factory and Forbidden Throne. There are 2 types of slots - 5-reel ones and 3-reel ones. All of the titles can entertain Australians with immersive looks and profitable gameplays, which include many generous symbols as well as well-paying bonus features. There are terrific Blackjack versions available and 3 great Roulette types - French, European (37 slots) and American (38 slots).

As far as the site's bonus offers are concerned, Aussie gambling fans of Jackpot City Fun Casino will receive a solid amount of financial support, given the fact that the site is designed solely for pleasure and doesn't allow members to make withdrawals. The welcome offer provides 400 free credits alongside a 200 percent match bonus, which can deliver as much as 2000 Fun Play credits. Deposits can be made through PaysafeCard, Visa and MasterCard. The customer support team is available to help with any problems whatsoever 24 hours a day and 7 days a week and can be contacted in 2 ways - email or Chat Survey. These services will be constantly looking after the numbers in gamblers' account balances and should prove to be more than enough for players to join the casino, make their installments and enjoy the great games without feeling that they are being cheated for not being able to collect their prizes. Fun casinos are reserved for the most devoted of gambling fans and they will certainly be treated in the most generous way at Jackpot City.

Australian online gambling fans will have lots of fun at Jackpot City Fun Casino and will certainly enjoy the site's diverse and huge collection of games, its comfortable bonus features and its outstanding banking and customer service, all of which will surely live up to the "Fun" bit of the site's name.