Multiply the Odds by Eight with Multi Wheel Roulette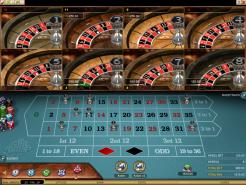 Multi-hand poker and blackjack games are common. Even sitting at the tables in a brick-and-mortar casino, players will often take two or three blackjack hands. But what about the most classic of games, roulette?
Microgaming has filled this gap with their latest table game, Multi Wheel Roulette! Multi Wheel Roulette is a great looking and great playing tame that spins eight wheels for each play, remedying the longstanding shortfall in this staple of casino play.
When players log onto Multi Wheel Roulette, they are faced with a beautiful image of a traditional European style roulette table, and quarter shots of eight wheels at the top of the play area. As we have come to expect from Microgaming casinos, the attention to detail is perfect and play is smooth. Better yet, the digital sound effects are tailored to this high class game, and they sound ideal.
All bets here are placed on the single betting table, but all bets are multiplied by the number of wheels that the player chooses to play. So a $5 bet is $5 per wheel - $5 played on eight wheels is a $40 bet. The good news is that this game has much better odds than traditional roulette games. With eight wheels in play, a relatively small bet will remain in action for a long time.
While the variety of bets are not as great as on a traditional roulette wheel, there are plenty of variations to keep serious roulette players interested for a long night of play.
The range of bets offered on Multi Wheel Roulette is sufficient to attract lower risk players and to get the serious high-rollers in for a spin, making this game suitable for all levels of online gamer.
Microgaming has done it again. Go log onto your favorite Microgaming Online Casino now, and get those wheels spinning! For the first timer or for the hardened roulette veteran, Multi Wheel Roulette is a game that should definitely not be missed!