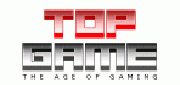 When you are looking for an online casino software provider, do you tend to shy away from newer companies in favor of more established brands? That might make sense in some cases, but there is one notable exception. Although Top Game online casino software is a relatively new product in the online casino world, it was founded by some of the same designers who started the more established Playtech online casino software. With experts like that behind the company, players who want online casino companies with a long history of experience should definitely have the confidence to give sites powered by Top Game online casino software a try. If the buzz is accurate, you will be glad that you did.
This newer online casino software company showed their impressive experience by the way they approached their launch. Many new companies try to baby-step it into the internet, offering just a few games and then trying to build upon them as the company grows and lessons are learned. But Top Game came roaring onto the scene with over 100 games all ready to go. The games include the standards such as slots, card games, video poker and table games, with a few unique games thrown in for fun. Despite the volume of games offered, you'll enjoy how fast and feature rich the software is.
If you are a slots fan, then you'll have fun on Top Game sites. Players really enjoy the wide range of games available. There are some classic slot games for those who want a simple, fast, or beginner's game to try. But there are also some fun themed slot machine games such as Sweet Surprises, Treasures of Pharaohs, or Bankroll Reload. Progressive jackpots are available on some of the slots games as well as several video slots games. One hot progressive jackpot game is the Black Diamond video slots game that has 25 lines and some impressive prizes. Be sure you've had something to eat before playing Crazy Pizza slots, or you might be so hungry that you'll be wishing you had a real buffet in your virtual casino.
Besides video slots, Top Game online casino software also offers video poker. There are two different games, each with different rules. Next, you can try your hand at Keno , different strains of black jack or roulette as ways to vary your playing experience. You're certain to enjoy the top quality of the graphics and presentation, as well as the audio soundtrack that adds that extra bit of 'realism' to your online casino experience.
No matter what kind of player you are, the chances are you will find a game on Top Game sites that both meets your needs and entertains you. There are different skill level options so that you are challenged but not overwhelmed. The speed is fantastic, making it easy to enjoy round after round of your favorite game without annoying hang ups or pauses. Plus, even Mac users can get in on the games with the version of Top Game online casino software that is Macintosh compatible.
Top Game Casinos
Top Game Slots