Halloween Slots
Some of the best Halloween Slots games and Free Bonuses can be found at our US casinos. Our aim is to provide you with this information so that you can bookmark our site and play these games anytime you like.
Halloween Bonuses and Free Spins: Updated 2023
Even if you don't play Halloween-themed slots in the second half of October, when the spirit of Halloween is in the air and especially in every online casino worldwide, they are still a ton of fun to experience. The majority of them usually feature an exceptional visual design that contributes largely to the creepy, sometimes demonic, sometimes slightly comedic but always dark atmosphere, which the celebration requires. These titles include witches cooking up dark magic, graveyards, filled with bats or spirits, pumpkins with carved grinning faces and basically every other little item which you can find in a costume store or the history of Halloween in general. Halloween-connected slots can have 3 reels with a classic set up or they can be of a more common type - 5-reel ones. Coin sizes usually start from 1 or 5 cents and can go as high as 5 dollars, although with some of them the biggest size could be just 50 cents. The maximum possible bet varies between 30 and 250 dollars. 5-reel slots almost always offer both a wild symbol and a scatter. As far as bonus features are concerned, there is almost always a free spins round present, usually activated through a triple scatter symbol combination. Other bonuses could be more advanced and can offer a combination of different types of prizes in addition to innovative gameplay rules.
250% Match up to $2000
---
Play at:
Black Lotus Casino
There are more than enough Halloween-affiliated titles in which bonus features include a combination of free spins, multipliers, expanding symbols, etc. Halloween slots are usually released somewhere around the date of the celebration so that the game can ride the wave of the excitement and attract more potential fans as well as newcomers. An example of a big game such as this is Witch's Brew, which is arguably one of the best games acquainted with this particular theme. Furthermore, there are entire franchises based on the famous Trick-or-Treat atmosphere such as the Bubble Bubble one, consisting of the first game of the same name and the recently released sequel - Bubble Bubble 2; both games are exceptional, even though the second entry to the series is undeniably a prime example of a great slot game in general, not just a great Halloween slot. Needless to say, slot admirers can be fully convinced that throughout the whole of October, Halloween games will receive a lot of attention and their gameplay bonuses as well as the promotions, which different online casinos prepare for them will likely receive an upgrade in terms of numbers, specifically for the occasion.
Here, then, is a snapshot of the 4 best Halloween Slots along with the US casinos you can join today.
Haunted Reels Slots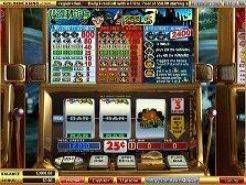 A classic 3-reel, 1-payline bonus slot game, this user-friendly slot game incorporates all the symbols associated with Halloween including: Witch, Pumpkin Jack-o-Lantern, Bars, and Trick or Treat Candy. The jackpot is 2400 coins and the coin size ranges from 10¢ to $10, with a maximum bet of $30. Don your scariest costume when you get to the Bonus Game, because when the Witch symbol appears you will be required to pick from multiple boxes to reveal your prize.
Trick or Treat Slots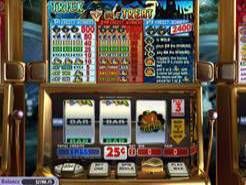 A classic 3-reel, 1-payline slot game with a few added features, Trick or Treat Slots will keep you entertained for hours. The symbols are fabulous and include witches, cats, pumpkins, candy, and bars. With a jackpot of 2400 coins, the coin size ranges from 10¢ to $10, with maximum of $3. This is a perfect slot game for penny slot players! Now for the bonus features: the Witch is wild and she acts as a wild multiplier as well. This means that when she appears, you can win up to 4x your bet! Warning: This game is best played at the stroke of midnight!
Monster Money Slots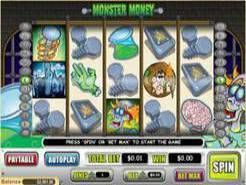 Monster Money Slots is a 5-reel, 25-payline bonus video slot game. Its Frankenstein theme is perfect for Halloween slot players and the symbols include: the professor, monsters, electrical rods, labs, brains, potions, hands and feet. The coin size ranges from 1¢ to $10, and the maximum bet is $250. The bonus features are fantastic and include the Professor as the wild symbol, and the Electrical Rod as the scatter symbol. To activate the bonus round, get 3 or more electrical rods. The bonus round consists of a picking boxes to reveal your prize award. Why not listen to "the Monster Mash" as you play Monster Money Slots at Liberty Slots casino.
Black Magic Slots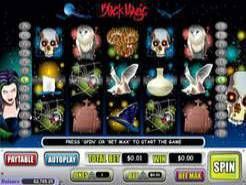 A 5-reel, 25-payline bonus Video slot game perfect for Halloween night, Black Magic Slots has all the elements you will need to cast your spell on this slot game to win high payouts. Its dark magic theme includes such symbols as: Witch, Full Moon, Crystal, Skull, White Owl, Python, Candle, White Bat, Clay Pot, Magic Hat, Black Widow Spider, and a Headstone. With a jackpot of 6000 coins, the coin size ranges from 1¢ to $10, with a maximum bet of $250. The Witch symbol is wild and the Full Moon is the scatter symbol. To get to the bonus round, you need 3 or more Full Moon symbols and then you can pick boxes to reveal your grand prize. Play this during a full moon and perhaps your chances in winning the jackpot will increase!