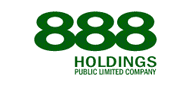 There is one significant difference between online casinos using 888 Holdings PLC Software and other casinos. 888 Holdings PLC software is only used by sites that 888 Holdings PLC owns and operates. In other words, when you visit one of 888 Holdings' online casinos, you're not playing on a site that is owned by one company and operated by another. This means you can be certain that the site has every interest in providing you with the best gaming experience possible – and there's no one to pass the buck to if you don't!
The company prides itself on its fair gaming practices and on policies to promote responsible play. 888 Holdings PLC software is submitted to regular, independent inspection to make sure that their results are fairly generated. The company's sites are all in compliance with the standards set by eCOGRA, and 888 Holdings PLC is also a member of the Interactive Gaming Council. The council has a rigorous Code of Conduct when it comes to fair gaming practices, which 888 Holdings PLC follows in all its online casinos.
Players who visit 888 Holdings casinos will appreciate that the company strives to maintain top standards across its sites. The company is known for focusing on security and privacy, without compromising the quality of play. The company also offers some pretty generous bonuses. Depending on the site and the promotions going on at the time, you could be offered anything from a fixed percentage bonus, a reload bonus for adding more funds, or a sign in bonus for joining.
The company offers sites with a good variety of games, so that you are sure to find something to enjoy. Not to mention, 888 Holdings Casinos often run some exciting events or competitions that can spice up your gaming experience. You might even get some unexpected free prizes or other comps to enjoy. 888 Holdings Casinos want you to have fun and stick around, and will try to spoil you to accomplish their goals!
If you're a fan of slots, you might enjoy the Slot Century video slot, with the classic appearance and feel. Or, try some unusual slots like Globetrotting or Mystery of the Tarot. Progressive slot games are available as well. Card and table games are available too with some exceptionally high payouts. Try blackjack, with a 98.19% payout rate. You can sit in for as little as 25 cents or bet as much as $1,000. Or, try your luck with the dice at a craps table and enjoy a payout rate of 97.76%.
If you're not ready to play for real money, you can play for free to get the feel of 888 Holdings Casino software, and then add some funds when you're ready to play for real. They allow a number of payment methods, making it very convenient for players. You can use credit cards, electronic banking, or even wire transfers to fund your account. Plus, the site and the company have a commitment to helping to prevent problem gambling. The company watches for signs of compulsive gambling, and sets limits on the amounts that players can add to their account on one day.
888 Software Casinos
New 888 Slots