Party Gaming
Party Gaming slots which started its life as a poker room and casino is now one of the number one slots providers online. As the name suggests, every slots game is a party and oozes atmosphere and fun. Whether you choose one of the comic character slots games or a traditional board game that has been adapted for online slots or even a fantasy theme, the enjoyment, fun and potential to win remains the same. One of the great advantages of playing slots at Party Gaming slots apart from the 100% sign up bonus offer is the fact that you can switch between the Party slots games and the Party Poker rooms and even the Party Gammon rooms. Party Gaming slots offers a wide range of payment options for players all around t he world and you can even ask for the slots in your preferred languages. There is nothing that the Party Gaming slots team have not thought of.
Clue Your Way through the Reels with Cluedo Slots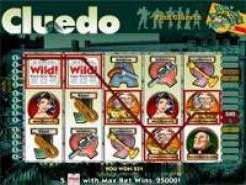 Cluedo slots is one of the leading party gaming slots and can take you back to your childhood memories of Miss Scarlet, Miss Peacock and Colonel Mustard. All of your favorite characters appear in this timeless slots game where the dagger, Spanner, Rope, lead pipe and candlestick make their mark. There are 15 paylines across 5 active reels which have all of the famous symbols and characters from Cluedo. Bets can be as little as $0.05 or as high as $5 which is a large range with 15 different paylines. The Cluedo slots game is a very standard slots game with not many extra features, the awards from the regular spinning reels and paylines are enough for many players.
The Cluedo Investigating Bonus
There is the added bonus game of course which is called the "Who won it bonus". You are taken to the who won it bonus screen when 3 or more who won it symbols appear across your reels. In the new screen, a magnifying glass travels between three areas of suspects, weapons and rooms. When the magnifying glass comes to rest it will reveal prizes that can be awarded, these are noted on the investigators notepad which is in the forefront of the screen. IF you think you can get a better result you can try again and not take the winnings which are offered as multiples of the bets placed. But, you only have 3 chances to choose the highest bet and if by the third try you are still not happy with the result you still have to take it and are then transferred back to the main game. Cluedo slots have all of the suspense and fun of the real board game in front of you on your screen, and the best bit of all is that you can play and enjoy the game and also win from it.
Sing Your Way through Winning Sinatra Slots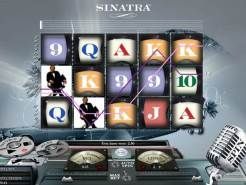 Sinatra Slots is another great slots game from party gaming slots. Sinatra slots is of course about the man himself and many of the symbols in this 5 reel 20 payline video slots game are made up of different images of the man himself. The black and white image of Sinatra is the wild symbol and can be used to make up winning lines when he lands in the path of a winning line. There is also a scatter symbol which in this case is a musical treble. In order for the scatter to help a winning line, it does not have to land in the path of a winning line but can be anywhere on the screen. The musical treble also has another job and that is each time it appears in the middle reel an addition stave is added at the top of the screen. When there are 5 staves you are taken to the bonus game where you can choose different instruments to reveal prizes on the way to making your own Sinatra melody. Sinatra slots is a great mixture of the classic with the modern technology of slots to give you a riveting and truly musical experience, especially when you hear the ring of a win.
Marvel and the Marvel Fantastic Four Slots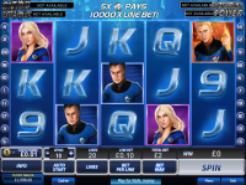 Party Gaming slots is known for its adaptation of some of the great all time comics and what better one to choose than the Fantastic Four who have to be one of the all time best comics ever. The Fantastic Four slots is an epic game of 5 reels and 25 paylines just like its counterpart comic. Bets can be as low as $0.01 and as high as $5 making it a game for every level of player. All of the original characters feature in this game and in fact the original four, Invisible Woman, Human Torch, The Thing, Mr. Fantastic and Dr Doom also act as wild symbols. These five wild symbols not only can make up winning lines but also contribute with some great coin wins if you land 2 or more in a row. There is a scatter symbol which is the Fantastic Four logo itself and when three or more land on your screen you are taken to a new screen where you can choose a bonus game.
Fantastic Four but Five Wilds with Five Bonus Games
There are 5 different bonus games which are essentially the same just under different leaderships; each game is named after the five wild cards. The bonus games offer free spins with multipliers ranging from 2x up to 10x. And, if that is not enough for you to take in, there are also 3 different progressive jackpots with this slots game which can be won, the Hero Jackpot, The Super Hero Jackpot and the Marvel Jackpot. Each one has a different starting pot but grows with more and more players. Party Gaming Slots is all about party and fun and it is so evident with the great choice of slots games that they have and of course that joining and playing is made easy and comfortable for any new player.