Baccarat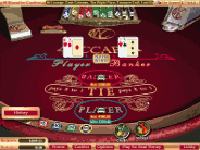 Put on your tuxedo and head to the online casino sites to play Baccarat. You'll feel as smooth as James Bond when you sit down to the most elegant online table game. Easy to play and easy to win, Baccarat pits players against the dealer or other competitors in an historical duel for big winnings. The Baccarat game is over five hundred years old, but it's still viewed as one of the most popular casino games. Enter the world of high rollers and slick dressers when you play Baccarat online using Flash, or download your favorite casino software.
Playing Baccarat
Despite its high class demeanor, Baccarat is actually pretty easy to play. The dealer deals the player the first and third card while dealing himself the second and fourth card. The Aces count as one, while the face and ten cards count as zero. The remaining cards are counted based on their given numerical value. The objective of Baccarat is to be dealt a hand that's adds up as close to 9 as you can get. Bet on either the dealer's hand, your own hand, or wager on a tie. You are betting on who will have the higher hand of cards. Bet anywhere between $5 and $100. If you bet on the player and win, you get even money. If you bet on the banker and win, you get even money minus a 5% commission that the house takes. If you bet on a tie and win, you get a 8 to 1 payout.
Play Baccarat in Online Tournaments
Play for high stakes when you enter a Baccarat online tournament. A Baccarat online tournament differs from regular online casino play in that you compete against other players at the table instead of just against the dealer. Buy-in to a Baccarat online tournament by paying an entrance fee. A Baccarat online tournament consists of numerous rounds. The player with the highest chip count at the end of each round advances. The winner of the last round wins the jackpot prize.
Where to Play Baccarat
You can play Baccarat at Bovada Casino, Club USA Casino, Ladbrokes Casino, Crazy Vegas Casino, All Jackpots Casino and Wild Jack Casino.